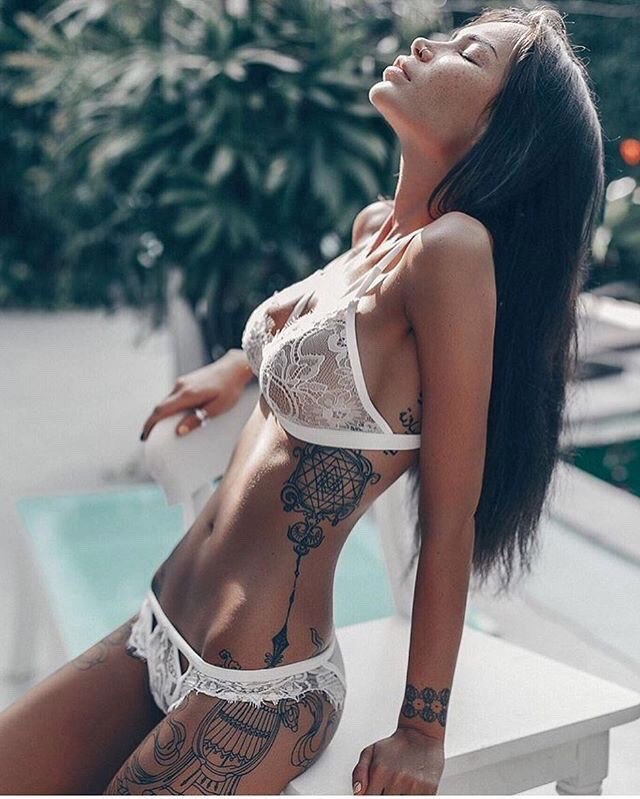 What do people say?...
What do you think of women with tattoos?
It depends on the tattoo, the story behind the tattoo, the way the woman relates to her tattoo, and the person doing the viewing.

A few people (including men) don't care one way or another about tattoos at all. The woman with the tattoo has her preferences and her reasons, and it's nobody else's business.

Some find all tattoos to be questionable, and they judge those with tattoos to be of poor moral character.

Some respect all tattoos, no matter what the tattoo might be, and they will admire anybody with any tattoo at all.

Most people seem to vary depending on the tattoo. For example, the same people who mock and think less of those whose tattoos have spelling mistakes often also admire people who have beautiful or meaningful tattoos.

A tattoo is as much a choice as which clothes people choose to wear. Some people will judge everybody the same, no matter how they're dressed, while others will judge people differently depending on what they choose to wear. The same often applies to tattoos (except that going out into public without wearing any tattoos at all is much more accepted than going out into public without wearing any clothes).
What do you think of women with tattoos?
Too be honest when I see a lady covered in tattoo's I'm looking to see what she has, there is nothing worse than to have someone staring at you because you have many tattoos. I like tattoos. I am a heavily tattooed person myself, and have seen people looking at me. It doesn't bother me, it would bother me more to think someone would cross the road to get away from me, not everyone who is tattooed is a violent person…
Do you think women with tattoos are 'trashy' or 'classy'?
Not a big fan of women with tattoos. I never once seen a woman with a tattoos and said "Wow, she's better looking now that I seen that". However, I seen pretty girls with gaudy ones. And said "Damn, why would she go and put extra ink on that beautiful canvas she got.

It's your body, so it's your choice. I guess I never seen the beauty in them.