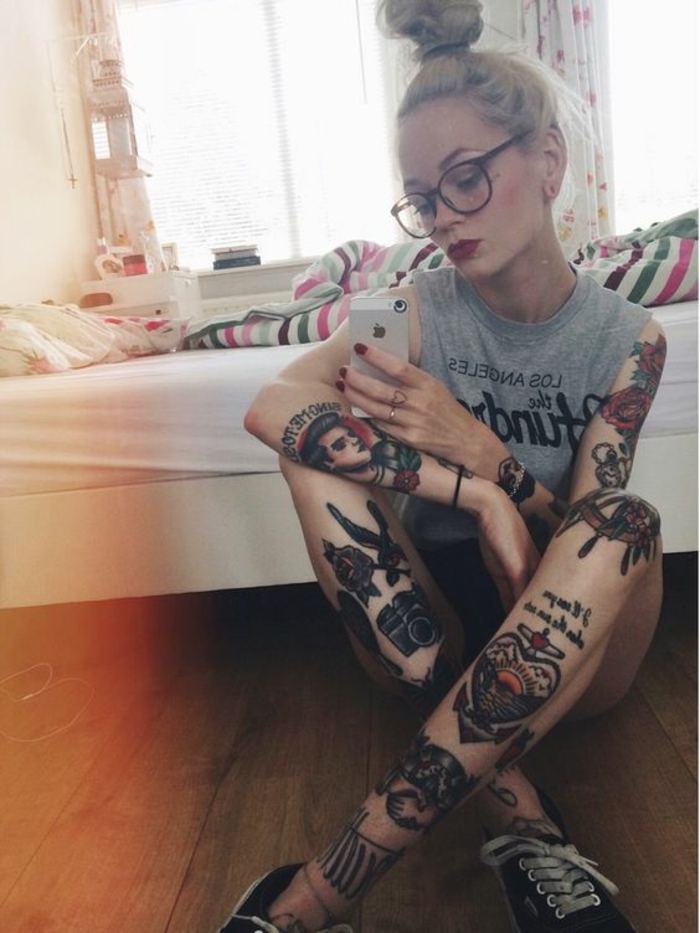 What do people say?...
What do you think of women with tattoos?
It depends on the tattoo, the story behind the tattoo, the way the woman relates to her tattoo, and the person doing the viewing.

A few people (including men) don't care one way or another about tattoos at all. The woman with the tattoo has her preferences and her reasons, and it's nobody else's business.

Some find all tattoos to be questionable, and they judge those with tattoos to be of poor moral character.

Some respect all tattoos, no matter what the tattoo might be, and they will admire anybody with any tattoo at all.

Most people seem to vary depending on the tattoo. For example, the same people who mock and think less of those whose tattoos have spelling mistakes often also admire people who have beautiful or meaningful tattoos.

A tattoo is as much a choice as which clothes people choose to wear. Some people will judge everybody the same, no matter how they're dressed, while others will judge people differently depending on what they choose to wear. The same often applies to tattoos (except that going out into public without wearing any tattoos at all is much more accepted than going out into public without wearing any clothes).
Do you think women with tattoos are 'trashy' or 'classy'?
I don't really know why but I actually prefer women who have tattoos. Specifically, I like sleeves over single picture tattoos.

This is perfect to me. I don't like tattoos that reach the neck or hands, or cover the face. I can't explain why, but I do love tattoos on a woman.

As for "classy or trashy", I don't use either of those words to describe tats. I suppose that would depend on the content of the individual tattoo.
What do you think of women with tattoos?
I see a person who:
1. Appreciates art.
2. Is confident.
3. Is comfortable with their own body (an attractive quality for me).
4. Could probably care less what you think of their body art.
5. Has a good job/career/money. Quality tattoos are a luxury service and are expensive!
6. Has a high threshold for pain (could be good or bad).
7. Could probably kick your a$$.
8. Is probably a lot of fun!