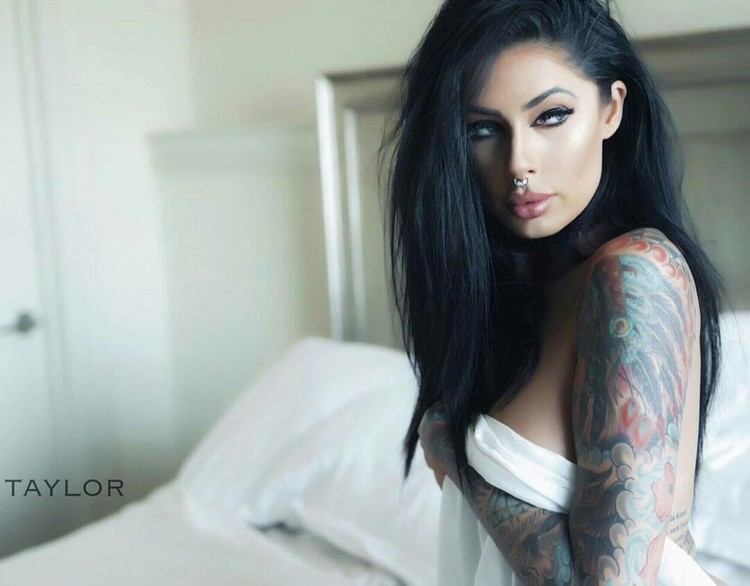 What do people say?...
What do you think of women with tattoos?
Like many others, I wouldn't be a fan of any racist or offensive tattoos.

But putting those obviously controversial ideas for a tattoo aside and assuming they are tattoos that don't have an offensive meaning behind them, I personally love women covered in tattoos. I love tattoos on anyone. A woman doesn't need to be covered in them either. I would like a woman with any number of tattoos of any shape or size. I may not be a personal fan of certain styles or designs but typically having one or more already says something about that person.

Now, I would different about a woman who had a tattoo of their ex-boyfriend's name on them as I think most people who have an interest in tattoos would agree. I've been in that position myself with an ex-girlfriend getting my name tattooed on herself, those kinds of tattoos also say something about that person and it's not usually a positive thing. Assuming they are "good" tattoos, nothing racist or offensive and not bad ideas like a partners name. But instead are well thought out designs and are real pieces of art, then I love them.

As I said, I may not be a personal fan of the design or style, but I don't need to be. They are not my tattoos, it's not my body, nor does my opinion on them really mean anything anyway. I still find just as much enjoyment and find it just as attractive because of how unique it makes that person look. I'm sure even I have my limits on how many tattoos are too many, but I've yet to find that limit.

At this moment, I love women who are covered in tattoos and find it very attractive. Not to mention the amount of conversation it can spark considering every tattoo has a story of its own, however long/short or meaningful/meaningless it may be.
Do you think women with tattoos are 'trashy' or 'classy'?
A classy woman with a classy tattoos remains classy.

A trashy woman with a classy tattoos remains trashy.

A trashy woman with a trashy tattoos remains trashy.

A classy woman with a well placed classy tattoos that knows how AND when to act trashy is sexy as hell.

Now the woman that had Bike handle bars as a tramp stamp fits in one of these groups.

3 guesses, and the first two do not count.
There is an opinion that women with tattoos are twice as likely to be approached by men for a date. What do you think?
Tattoos are very personal and when approaching a woman, it gives men something to comment on or relate to. In a way, it gives men more confidence to approach because it gives them something personal to open with besides the usual cliches or pick up lines. A visible tattoo gives a man a way pay attention to a woman without coming on too strong, or too interested.

Most women love attention and compliments. When a woman has visible tattoos, in a way she is saying: "Here I am and this is who I am, so come talk to me". Normally women dress to impress other women, so if a man comments on her attire, he may come off as gay or metrosexual. General comments regarding looks like "you have pretty eyes" are not as personal and come off fake. Asking a woman about her tattoo(s) is saying: "I accept you for who you are and I'm interested in you, and your story".

From a psychological standpoint, women that have tattoos may be deemed easier to pick up. Man logic would determine: "If a woman is confident or happy with herself, she would not feel a need to improve her self image". A tattoo is a way for a woman to draw attention to herself, a way to build confidence, and a way to improve her self image. Man logic would determine: "Women with tattoos may have lower self esteem and confidence issues", and therefore may be deemed 'easier' to approach.

From a religious and a social aspect a woman having a tattoo is still considered taboo. The bible forbids marking one's body, so if a woman isn't strictly following scripture in this regard, she may not be following scripture in other regards, like having pre-marital $ex. Socially, a woman getting a tattoo is a sign that she is rebelling against her parents or what old school society considers being 'lady like'. Bad girls get tattoos. Bad girls have $ex outside of marriage. Bad girls and girls with lower self esteem are deemed easier to approach.